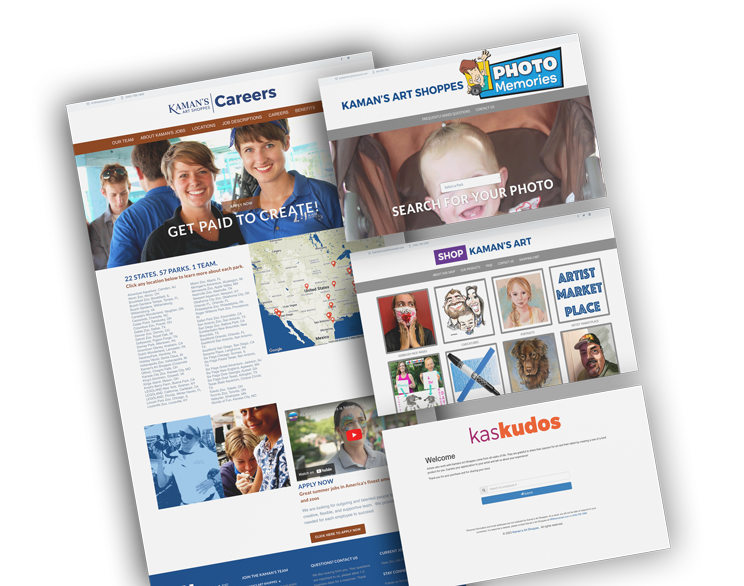 Kaman's Art Shoppes - Portals
---
Skills: ColdFusion, Management Systems, Hosting, Data Processing
Overview:
Kaman's Art Shoppes came to us originally wanting a job portal to streamline their application and job fulfillment process. Over time, the goals expanded to various other portals. WRIS is proud to have continued to provide support and ongoing development to fit their needs.
Services Provided:
ColdFusion Development •
Project Management
•
Strategy
Data Processing •
Reporting
•
Hosting
Jobs Portal Project Detail
---
If you've ever been to an amusement park and had your picture taken as you enter the park, or had your face transformed into a lion, you have probably worked with our client. As North America's largest art and photo concession company, with locations in 18 states, it's no surprise that Kaman's Art Shoppes needs hundreds of artistic, creative, entergetic people on their team. They needed an efficient way to recruit new employees and worked with WRIS Web Services on the development of KamansJobs.com.

The clean, resonsive emplyment portal gives potential employees access to the many available positions throughout the country. And because the Kaman's team is able to keep the entire website updated -- from locations to available positions to job descriptions -- site visitors always have access to the most up-todate information. And if they make the decision to apply for a position, the detailed online application easily captures all relevant information that is needed, including the ability to upload examles of work. Then, thorugh the Content Manager, the Kaman team has easy access to all submitted information and can even add internal notes and track applicant status, from receipt of the initial application to the extention of a job offer.
Additional Portals
---
Once the Jobs Portal was off the ground and the Kaman's team could see the ease of use and streamlined processes, they came back to us with additional needs. WRIS created Kamansphoto.com as a way for park goers to easily view photos taken during their visit and order a variety of products all featuring their special moments. With only the need for the date of the visit and the ticket number provided.

From there, its only natural to move right into providing their customers the ability to order specialty art products online, no matter the season. From portraits to rush art to wood signage. The Shopkamans.com site was created to allow you to design and customize your selection before having it shipped right to your home. no amusement park required!

And lastly, but most importantly, WRIS was able to provide a way for customers to show their appreciation of the Kaman's Art Shoppes quality artists with the Feedback & Appreciation Portal -- Kaskudos.com. This simple online system gives customers the ability to submit comments and/or gratuities to artists who they feel have done an outstanding job. Kudos!

Please Note: WRIS Web Services cannot provide any detail on job listings, purchase orders, or park stay photos taken. To contact Kaman's Art Shoppes please navigate to the relevant website listed above.
Where to find Kaman's:
kamansjobs.com
•
kamansphoto.com
shopkamans.com
•
kaskudos.com