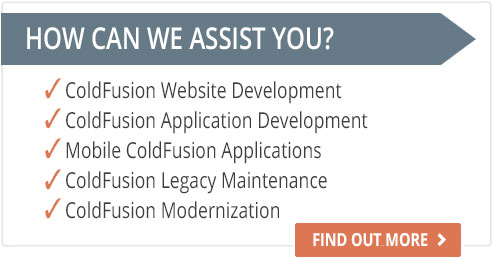 US based ColdFusion support and upgrades
WRIS Web Services provides expert ColdFusion programming services ranging from brand new website development to maintenance, modernization and troubleshooting of legacy systems. This includes versions prior to Adobe, including Allaire and Macromedia as well as Railo and Lucee. We offer the following ColdFusion support services:
ColdFusion Legacy Application Maintenance
Legacy systems built using the Coldfusion programming language are robust and high performing, however, many companies with these Coldfusion systems no longer employ the original ColdFusion developers who built them. Rather than spend the time and money to completely rebuild your legacy system in a different programming language, our team of expert Coldfusion programmers can help solve your maintenance issues. See Client Examples.
ColdFusion Legacy Application Modernization
As technology continues to advance and your business operations evolve, it's important to keep your legacy system modern and streamlined to maximize your operational performance. Our ColdFusion experts can help evaluate your legacy application and determine the best plan for modernization. See Client Examples.
ColdFusion Version Upgrades
Oftentimes companies find it necessary to upgrade ColdFusion from an older version to newer versions available such as 2016 or 2018. We have plenty of experience with this process and can assist remotely with the upgrade of ColdFusion and the testing of your application. We begin testing new versions as soon as we can to get a handle on these types of upgrades for our clients. Read more about our ColdFusion upgrade process.