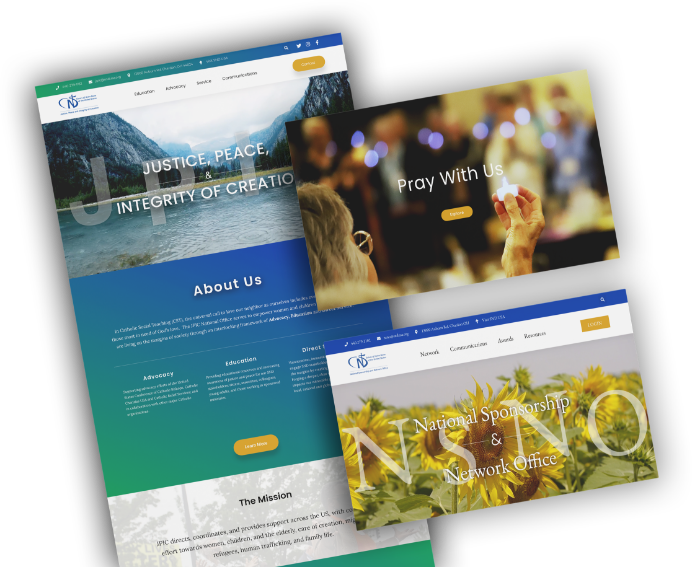 Sisters of Notre Dame of United States
---
Launch Year(s): 2021-2022
Skills: Wordpress with Elementor, Plugin Integrations, Video Editing/Creation, Brand Cohesion
Overview:
The Sisters of Notre Dame of the United States (SND USA) came to WRIS Web Services during a time of great change. Previously the organization was divided into 4 separate regional areas within the United States. Each of them had their own website with its unique look to showcase even more unique areas that their region handled. The goal was to combine all 4 websites into 1 without losing regional individuality.
Once the main organizational website was launched, we were asked to then apply the new brand look across 4 new websites for their ministries and/or needed functions with the goal of keeping the brand cohesion.
Project URL:
sndusa.org
•
nsno.sndusa.org
•
jpic.sndusa.org
vacations.sndusa.org
•
careers.sndusa.org
Main Site
---
With the assistance of representatives from each of the 4 regions we narrowed down the needed functions and content. From there we created a new home page with their modern brand which showcased all 4 regions. Keeping focus on ease of use and verifying a user could quickly make it from the home page to relevant sections in as few clicks as possible. To keep everything unique, WRIS created custom icons for each ministry and various items that they represent.
Alongside the user flow and branding, we were also tasked with creating a video that would convey the long history of SND USA quickly and efficiently. This video is now available across multiple sites, but can be quickly viewed here.
Additional Sites
---
With the main site launched, the focus shifted to their ministries. These took on a life of its own as we tried to find imagery and colors that fit their missions. With the unique elements chosen we wove the colors and branding in with it. In 2022, their ministry site for Justice, Peace and Integrity of Creation (JPIC) won the Web Award for Outstanding Website in the NonProfit Industry.