Organic Rankings
You have an attractive website and you feel it highlights your organization in the best possible way. So imagine a prospective client searching online for exactly what you have to offer, only to find your competition because they appeared on the first search results page, while you appeared on the third. So much for that great looking site...now what?
SEO, that's what.
Wikipedia defines SEO as "...the process of affecting the visibility of a website or a web page in a search engine's natural or un-paid ('organic') search results". Why is SEO important? Statistics* show that:
93% of all internet activity begins with a search engine
75% of users don't get beyond the first page of results
39% of customers come from a search engine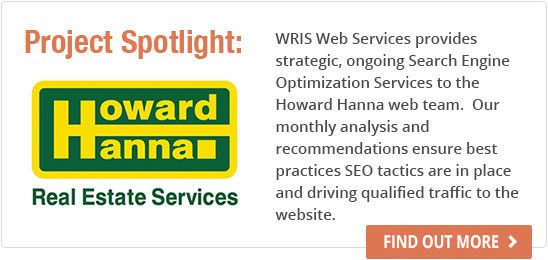 Search engines are mysterious by design, but they're not entirely inscrutable. There are only so many things they can measure to determine which results to display first — site structure, frequency of updates, quantity and quality of inbound links, to name a few. But the weight given to those elements can change over time. So true search engine optimization (SEO) involves taking those steps that have proven effective in the past, then monitoring progress over time and changing tactics if necessary.
Our SEO efforts begin with site design. We incorporate all best practices to maximize visibility from day one. We also offer ongoing efforts, such as editing content, developing metatags, creating and placing sitemaps, creating inbound/outbound links, and optimizing HTML. These clients receive monthly inSITE reports detailing analytics, our activities and their results. Call for more information.
*Sources: College of Marketing, Search Engine Journal